On this page:
Connecting to the Robot
Keyboard Commands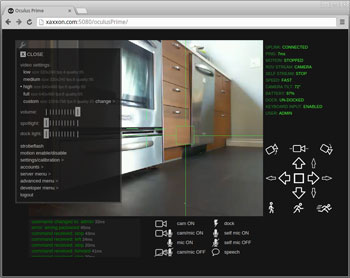 The desktop browser remote interface is the main interface with the robot and the underlying software. It allows you to remotely control Oculus Prime, as well as perform various setup and calibration tasks. The Flash browser plugin is required.


Connecting to the Robot
On a pc other than the one running on Oculus Prime, open a browser and navigate to the connection url. It takes the form:
http://ip-address-or-domain-name:port/oculusPrime/
Replace ip-address-or-domain-name with the appropriate value for your setup. Replace port with the default port 5080 (you can set the port to be something else if required, read through the port forwarding section).
For example:
http://192.168.0.111:5080/oculusPrime/


Log In and Change Default Password
You should be greeted with a login message – the default login is username 'oculus' with password 'robot'. To change the default username and password go to:
'MENU > accounts > change username'
and
'MENU > accounts > change password'


Many of the controls are self explanatory. If the robot is docked, the only movement option available will be 'forward'. Click the 'up' arrow in the lower right movement control button area, or press 'w' on the keyboard.
The green text in the upper right represents real-time robot status, and the message window lower left shows a log of communication coming from/going to the robot. The wrench icon (upper left) opens the menu, which gives access to more controls, including advanced configuration/setup dialogs.


Keyboard Commands
The available built-in shortcut key commands are listed below. You can also find out if there is a shortcut key for a function by hovering over its corresponding icon or description on the web page; the function description will appear below the status indicator text, on the right side of the window.
| | |
| --- | --- |
| Stop Movement | Space Bar or S |
| Move Forward | Up Arrow or W |
| Move Backward | Down Arrow or X |
| Rotate Left | Left Arrow or Q |
| Rotate Right | Right Arrow or E |
| Speed Slow | 1 |
| Speed Medium | 2 |
| Speed Fast | 3 |
| Nudge Forward | T |
| Nudge Backward | B |
| Nudge Left | A |
| Nudge Right | D |
| Camera Up | R |
| Camera Down | V |
| Camera Horizontal     | F |
| Menu Open/Close | M |
| Camera On/Off | I |
| Autodock Start | P |
| Telnet Command | C |
NEXT: Calibration