| | |
| --- | --- |
| | DIY Kit |

Oculus Prime is available as a Do-It-Yourself kit, for those up to an intermediate robot build challenge.
You can build either the
SLAM Navigator
version OR the
Pi Explorer
version (or your own variant). Everything required is included, except for computer hardware. Comes with both sets of parts, for with-or-without depth sensor mounting, and hole patterns for mounting a mini-ITX or Raspberry Pi board.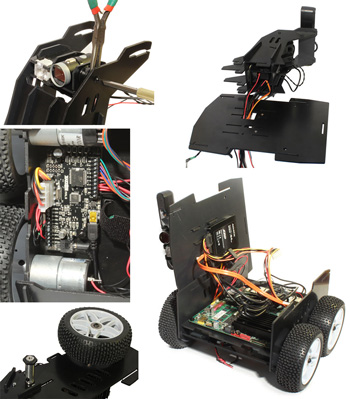 You can also use computer systems
other than
those included with the SLAM Navigator or Pi Explorer versions, as long as they meet the 'computer system requirements' described below
Follow the 'buy now' link above for detailed kit contents, as well as recommended computer hardware for each version.
Skills required for the build:
Hand tool use
Basic wiring
Fairly-easy soldering
Multimeter use
Skills recommended for operating system configure and software install:
Familiarity with Linux command line
Linux (Xubuntu) software installation
Operating system install to blank system
See
here
for assembly instructions and
here
for software install instructions.
Computer System Requirements
:
OS/software: the Oculusprime Server Application requires either a 32 or 64 bit Java 7 JVM. It should run ok on any Debian variant of Linux (Ubuntu, Raspian, etc.)
Architecture: the Oculusprime Server Application runs on x86, x64 and ARM systems, but we can't help much with ROS Navigation unless its running on x64 systems
RAM: At least 1Gb of RAM is required for basic teleoperation, and 4Gb is recommended for running the ROS Navigation stack
Wifi is required. If using a USB depth camera (eg., Orbbec Astra), use of a mini-PCIe wifi card is recommended, instead of a USB Wifi dongle, to free up system USB bandwidth
Storage: minimum 4Gb microSD for Raspberry Pi systems, 8Gb SSD minimum recommended for ROS Navigation
Power: the Xaxxon POWERv2 PCB outputs unregulated DC voltage varying between 9-16V, so computer mainboards require a compatible regulator or wide-input PSU--such as our ATX Power Kit
Current: maximum output from the Power PCB is 3A (5A peak) but that is shared with the wheel motors, so it is recommended that computer systems draw 2A or less